Dressing Table Buying Guide
Why invest in a dressing table?
Most girls dream about their own dressing table or 'styling station'.
You want a dressing table and mirror to be the focus or main feature of your bed or vanity room.
You would love a beautiful bedroom space that's yours and yours alone.
A space to do your makeup and hair and to store and organise all your concealer, foundation, eye shadow, mascara, lipstick, jewellry.
A place for your hair dryer, straighteners and to leave skincare, rings and phone to charge on the table top at the end of the night.
If you have just moved house, need a room make-over, new bed or bedroom furniture, or you are redecorating, then a dressing table is quite possibly on your shopping list.
You've invested heavily in makeup and now you can't locate half the stuff you need because your room or makeup set up is so disorganised.
If you have recently changed partner status, seeking ideas for birthdays and Christmas, want to invest in yourself, your bedroom and better organise your makeup collection then this dressing table guide is for you.
Or your little girl is growing up and needs a space of her own.
However the space in many modern bedrooms is limited with double beds, bedside tables, chest of drawers and cupboards utilising most of the space.
Dressing Table Buyers Guide Modern,Vintage, Small, Large Mirrored & White Vanity Tables
Alternative to a Dressing Table
Many women 'hack' together a space in a room or their bedroom to do their makeup and get ready.
They use alternatives to a dressing table such as:
Sit on the floor with a mirror and vanity case.
Use an old desk.
Use a computer desk and drawers.
Use an ottoman stool with no back.
Use an Indian console table.
Use a table bench.
Applying makeup and hair on a hall table or console table or their bedroom because console tables are narrow and thin in depth.
Use a small mirror on the kitchen table.
Use the bathroom mirror and go back and forth from the bedroom.
Step by Step Guide to buying a new dressing table
This step by step guide to buying a dressing table will help you to choose what's right for your room space, budget, design style and individual preference.
Decide which room to put your dressing table in
The first thing you need to decide is where to put a dressing table in your house.
Will the dressing table located be in your bedroom or in a separate vanity dressing room (or a converted box or spare room)?
Bedroom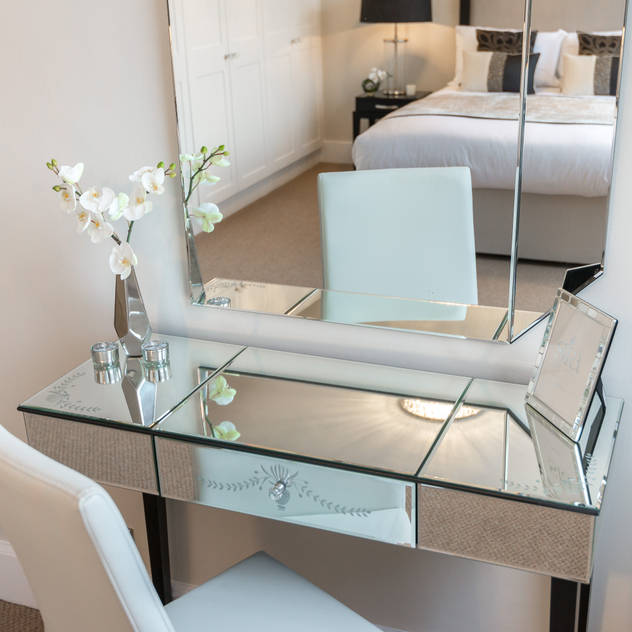 Vanity or Dressing Room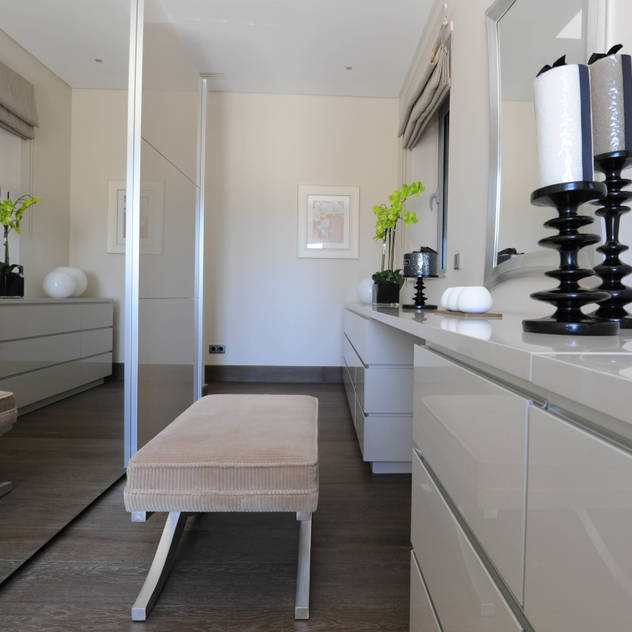 Has your baby outgrown the box room in your house and moved into their sibling's bedroom to share?
Has your teenager moved out to their own flat or home or onto college and you have an available room ?
If you have a daughter who's moved out (sob, sob), I bet she would love you for converting her room into a vanity room; just keep some of her memories and things intact in her room !
If your daughter is coming back from university for the summer have a chat with her about possibly renovating her room with the possibility of it being a joint bedroom and vanity room.
If space is not an issue, then ideally you can situate a dressing table in your own bedroom.
If you share your bedroom with a partner, subtly drop hints over the next few weeks about your intentions.
What's the Room Size ? Large or small
Find or buy an good old fashioned tape measure to calculate the dimensions of the dressing tables you see online or in the shops.
Don't waste your time on room measuring apps from Google Play or the Apple App store.
Then measure and plan out the space a new dresser would occupy in your room.
How to measure your room for a dressing table
Step 1
Length. Measure along the wall a space of 80cm for a small dressing table and 120cm for a standard sized table. Allow some space either side.
Step 2
Depth. Measure 40cm out from the wall for the table depth; then about 50 cm for the chair and another 50cm to allow you to manoeuvre the chair and give you space.
Step 3
Height. Allow 80cm for the height of the table and another 80cm for the height of a mirror.
Further advice for measuring a dressing table space
You will need at least 160 cm of wall height.
At a minimum, you need 80 cm for the height of the dresser and 80 cm for the height of a mirror that sits on top of a dresser.
Some rooms don't have straight vertical walls such as lofts or re-converted attics.
Attics or lofts tend to have a vertical wall from the ground to waist level or shoulder height and are then angled in towards the centre of the room.
You will also need to take into account your bedroom windows, where the bedroom door opens and closes, your existing cupboards, walk in wardrobe positions and measure out the available space you have.
And, if you have a partner, you have to consider their space, clothing and bedroom furniture.
There are plenty of online room planners you can use for free, to sketch your room dimensions and add in furniture and view a 3D walk around of your room.
Alternatively, you could use an architect or a 3D model designer to decide the room layout and position of your dressing table.
Or do what I did; sketch out the room dimensions on an A4 sheet of paper.
How you plan your room will depend on your budget for redecorating or how much time, effort and money you are investing in a room makeover.
Small, standard, large dressing tables
There are essentially 3 different sizes of dressing tables on the market today.
Small Dressing Tables
70-80cm wide. 35-41cm deep.
Medium sized dressing tables
100-120cm wide. 45-60cm deep
Large dressing tables
Over 120 cm in width.
Once you know the size of your room and available space, you can now include or cross off certain dressing tables you are looking at online from your shopping list.
If the length of one your bedroom walls is less than 3 metres with a double bed in it, you are most likely not going to be able to fit a standard sized 1.1 metre wide dressing table.
If you only have a space of around 75-78cm then the smaller dressing tables are the ones you need to consider.
You also need to take into account who the dressing table will be used by and how much makeup you or they have.
Adult or pre teenager?
If your daughter is getting to that age when she's showing an interest in makeup or she keeps coming through to your bedroom and using 'your space' that's when it's probably time to invest in her own dressing table and make up area.
Girls grow up so fast.
I've a friend who has a 12 year old daughter who is 5 ft 6 inches tall; she's adult size.
So you want to look at vanity dressers for your daughter that are adult and standard sizes as she's probably going to be at home in her own bedroom for the next 8 to 10 years !
You can use this age and average height chart to see the average height of girls and their growth in height by years to determine if you should invest in a small or adult sized dressing table.
For pre-teenagers, there are small dressing tables available however they are really just to let them 'play' and get started with a hair and makeup area.
If your daughter is 10 years old or more I would recommend you look at standard sized tables and put a 10cm-20cm cushion on top of a stool or chair (or consider a height adjustable chair) so she can see her full head and shoulders in the mirror.
Let's look at the next features of buying a dressing table; a mirror, separate or dressing table set, style, colour, price, drawer size.
Mirror - separate or included ?
Whilst some of the entry level dressing tables include a mirror, ideally you want to purchase a dressing table without a mirror.
A dressing table mirror is the centre piece of dressing table
Bright lights are an essential part of applying your makeup.
You want mirror lighting like you see in actors dressing rooms or the ones you see in the movies.
You want the ability to brighten or dim the lighting according to the time of day or night it is.
You don't want to do your make-up and go outside and all the colours are wrong or made some elemental mistakes that need repaired later on.
Here's a quick summary Hollywood Mirrors' led and illuminated mirrors
All the mirrors have dimmer switches and 25 watt bulb around the perimeter of the mirror
| | | | | | | | |
| --- | --- | --- | --- | --- | --- | --- | --- |
| Name | Image | Height | Width | Depth | Mirror Size | Orientation | Type |
| Scarlett | | 70 | 100 | 25 | Large Mirror | Landscape | Free Standing |
| Julia | | 80 | 60 | 25 | Small Mirror | Portrait | Free Standing |
| Audrey | | 80 | 110 | 25 | Large Mirror | Landscape | Free Standing |
| Diaz | | 80 | 60 | 25 | Small Mirror | Portrait | Free Standing |
| Angelina | | 80 | 60 | 25 | Small Mirror | Portrait | Free Standing |
| Penelope | | 60 | 80 | 6 | Small Mirror | Landscape | Wall Mounted |
| Meryl | | 60 | 60 | 6 | Small Mirror | Square | Wall Mounted |
| Nicole | | 60 | 100 | 6 | Large Mirror | Landscape | Wall Mounted |
| Marilyn | | 80 | 110 | 25 | Large Mirror | Landscape | Free Standing |
| Halle | | 70 | 70 | 6 | Small Mirror | Circle | Wall Mounted |
You want a mirror with lights on or above a dressing room table at the perfect angle or height to see your full head and hair.
When you sit at your vanity dresser you should be able to see your full head and shoulders.
If you can't take a good selfie sitting at dressing table, you have the wrong table, mirror or chair.
Alternatively, you may want to go for a 3 piece mirror so you can see the front, back and sides of your head, hair and face.
Just bear in mind these types of mirror can take up valuable dressing table surface space.
Would a £30 desk lamp be any good for makeup ?
A desk light or lamp could be used but it will likely have bright white and stark lighting and you'll have to adjust the angles
You could also buy a pack of led light bulbs and attached them to your mirror to give you the hollywood mirror effect with a little handy work.
Stand alone dressing table
Table and Mirror
Table, chair and mirror
Style - Modern, Vintage, Chic, Contemporary
Take a look at the colour of your existing bedroom furniture, doors, carpet, flooring or the colour of your en-suite bathroom.
Natural Dressing Table
Modern White Dressing Table
Mirrored Dressing Table
You want your vanity dresser to match one of these features.
For example if you have natural wooden coloured doors you may want to consider a natural or traditional style of dressing table.
If a natural or traditional finish is you, then wooden dressing tables are an ideal choice.
Another traditional finish is oak.
If your room is primarily oak furniture adding an oak dressing table could darken the room too much so you may wish to contrast with a lighter or white vanity.
If your style is mainly modern you could always contrast modern and vintage.
If your existing bedroom doors are white, you may want to consider a dressing table that is white, contemporary and modern.
If you have chucked out your 'chinks' and gone down the minimalist, Scandinavian or Ikea design route then you will probably want to consider a white or off white dressing table with a more contemporary look.
If your bedroom furniture is dark wood, go for a grey or mirrored dressing table
If your bedroom furniture is dark wood you would probably incorporate a mirrored or grey dressing table to match your soft furnishings and carpet.
Or you may wish a grey or mirrored dressing table to match a grey en-suite.
There are many clean, straight and metal dressing tables if you are exhausting yourself looking at the many traditional styles.
Colour - Black, White, Pine, Cream, Silver
When it comes to dressing table colours, white and black are by far the most searched colours in the UK.
Followed by oak, pine and vintage.
Cream, silver and grey are also very popular.
White Dressing Table
Black Dressing Table
Oak Dressing Table
Pine Dressing Table
Cream Dressing Table
Grey Dressing Table
Silver Dressing Table
Walnut Dressing Table
Mass market brands like Ikea and Next tend to sell white coloured dressing tables as white tends to be a neutral home furnishing colour that can be matched with most bedroom furniture.
Some of the more specialist furniture companies such as Made and LuxDeco focus on the black, brown, mahogany and walnut shades.
At Hollywood Mirrors and Chaplins you will see a selection of silver and smoked mirrored dressing tables that present a more modern and high class look.
Price - low, medium high
Low, mid and high price points
Dressing tables vary in price from £80 such as the Ikea Malm dressing table up to £5000 and more.
We have categorised our buyer's guide into 4 price points; low, mid, high and money no object.
| | | | |
| --- | --- | --- | --- |
| Price Bracket | Price Range | Brand | Link |
| Low | £80 - £149 | Ikea Malm | |
| Low | £149 - £399 | Made | |
| Mid | £150- £405 | Habitat | |
| Mid | £255 -  £318 | Hollywood Mirrors | |
| Mid | £185 - £399 | Dunelm | |
| Mid | £699 | John Lewis | |
| High | £907 - £1010 | Hollywood Mirrors | |
| High | Chaplins | £2275-£4620 | |
| High | Luxdeco | £1875-£3480 | |
| High | Juliette Interiors | £6929 | |
| Money No Object | Wood Furniture Designers | £10,000 +  |   |
Money no object? Have a bespoke handmade dressing table designed
Where money is no object or you are looking to commission a piece of furniture that's unique, then hire an interior designer or a wood furniture designer.
There's a big market for the restoration of old, vintage dressing tables and ladies who have inherited dressing tables from their mother or grandmother.
Going down the bespoke route is one way of leaving a legacy for your daughter or grandchildren; a story that will span generations.
When you commission a bespoke dressing table, you will choose the wood, the grain, the texture, the size, the shape, the number of drawers, the table top, the mirror and the surface.
You can also find interior designers who will specialise in more modern materials such as metal.
They will work hand in hand with you right through the process from concept to design and production and installation.
You will bring your style to the table and create a story to be shared for generations to come.
Separate dressing table and chair or set?
The majority of furniture retailers sell dressing tables separately, without a vanity bench, stool or chair.
Vanity chairs are also a very important consideration for your bed or vanity room.
A chair with a high back or perhaps armrests is ideal if you want to savour the getting ready experience.
You will want vanity chair with a comfortable cushion.
Ideally you want to touch, feel and experience a dressing table chair in advance of purchase.
If you really want to get the glamorous Hollywood style look, then a curved chair with studs or silver on the back of the chair for added style.
If you do choose to buy a chair separately, remember to check the height of your dressing table before purchasing.
You may also want to look for an adjustable chair for a younger girl so that's she is at eye level with the centre of the mirror.
Stools are an alternative to a dressing table chair and they are available with or without a back.
A firm back, cushioned and preferably a stool that matches or complements your dressing table is important.
And if you can find a dressing table stool with storage drawers or space under the seat cushion that's another feature to look out for when you have a lot of makeup accessories.
Under seat storage would an ideal place to store a hairdryer and straightener out of harm's way.
Matching bedroom furniture or not?
Many of the leading retailers such as Next, Ikea, John Lewis and Made.com offer matching bedroom furniture that has been designed in conjunction with their dressing tables.
Each furniture piece can, of course, be purchased separately.
Matching bedroom furniture with your dressing table area is probably a higher consideration when you've moved into your new home or when you are redesigning or renovating a room.
However, for the most part, a dressing table will be a stand alone purchase and there's an abundance of pieces to choose from.
Dressing Table Drawer sizes
Many of the leading brands such as Ikea, Next, Habitat and even Ikea, to some extent, fail to supply on their website the dimensions of their dressing table drawers.
An organised girl needs to know the width, depth and height of each storage drawer so she can work out what accessories to store and what she can fit inside.
Thankfully we contacted all the major retailers to ask them for the drawer dimensions listed below.
| | | | | |
| --- | --- | --- | --- | --- |
| Image | Product | Width | Depth | Height |
| | Sovana Ivory High Gloss Dressing Table | n/a | n/a | n/a |
| | Mirrored Dressing Table With Drawers | n/a | n/a | n/a |
| | Dark Grey Sienna Shagreen Dressing Table | n/a | n/a | n/a |
| | Arlo Black Dressing Table | n/a | n/a | n/a |
| | Mirrored Clarissa Dressing Table | n/a | n/a | n/a |
| | Silver Snakeskin Dressing Table | n/a | n/a | n/a |
| | All Mirror Dressing Table With Two Drawers | 44.5 | 35 | 15.5 |
| | Ikea Hemnes | 109 | 40.8 | 10 |
| | Ikea Malm | 109 | 36 | 10 |
| | Ikea Brimnes | n/a | n/a | n/a |
| | Habitat - Cato Black Dressing Table | n/a | n/a | n/a |
| | Habitat - Cato Large White Dressing Table | 27 | 37.5 | 8 |
| | Habitat - Perouse White 2 Drawer | 55 | 49 | 16 |
| | Made.com - Landsdowne | 55 | 40 | 7 |
| | Made.com - Leila | 23 | 40 | 7.3 |
| | Dunhelm - Blakely | n/a | n/a | n/a |
| | Next - Fleur Dressing Table | 45.7 | 29.2 | 6.5 |
| | Chaplins - Beauty Dressing Table | 64 | 50 | 12 |
| | Chaplins - Venere Dressing Table | n/a | n/a | n/a |
| | John Lewis - Shalstone | n/a | n/a | n/a |
| | Juliettes - Ornately Dressing Table | n/a | n/a | n/a |
| | LuxDeco - Advivum Berkely | n/a | n/a | n/a |
| | LuxDeco - Walton | n/a | n/a | n/a |
Height of drawers
Out of the 3 dimensions, drawer height is by far the most important measurement.
Since your hair is almost always dried in front of a mirror you will probably want to store away your hairdryer and straighteners when you are finished so you don't have messy looking cables left lying around.
There are very few dressing table drawers that are tall or high enough to store a professional hair dryer.
The Philips ThermoProtect is a professional salon hair dryer that is 12 cm in height so it won't fit many dressing table drawers.
Philips ThermoProtect Hairdryer
12cm high
Tresemme 2000 Watt Hairdryer
8cm high
However the Tresemme 2000 Watt Hairdryer is 8 cm tall when laid flat so it will fit the majority of dressing tables we have featured.
Still on the subject of hairdryers, there are no dressing tables with a circular hole on the surface (like office desks that have computer cables) where you can drop the hairdryer cable to the plug.
So when it comes to positioning a dressing table in your room you want to situate the back edge a few inches back from the wall and near a wall socket.
Width and Number of Drawers
Most dressing tables will have drawers that span the width of the unit just below the table surface.
Generally there will be 1 or 2 drawers; one drawer spanning the full width or 2 drawers half the width of the dressing table.
1 drawer full width
2 drawers half width
Table Surface
A typical dressing table has a width of 100 cm to 120 cm wide and is 40cm to 50 cm deep.
The surface space of the dressing table will determine what type of mirror you can accommodate.
Small free standing vanity mirror
Large wall mounted mirror.
Tri fold mirror
Oval mirror
Swivel mirror
If you are investing in a dressing table, then dressing table mirror lighting is absolutely crucial.
If you go for a large free standing mirror, you therefore have less surface space but still enough space to station and use your hairdryer and straightener and display lipstick, perfume and skincare products whilst putting eyeliner, lippy and mascaras in drawers or other storage.
Should you go for a wall mounted mirror you suddenly free up a lot of surface space and your dressing table can also become multi purpose.
Use your dressing table for makeup and hair
Use your dressing table as a study or writing desk.
Use your dressing station for your laptop, Mac or computer.
Or if study and computers are a big no-no, then you will free up your space for a tri fold mirror so you can add your personal touch with leather catchall trays or picture frames of family and loved ones.
And with more surface space, a bottle of wine or champagne in an ice bucket is the perfect pre night out bar top before you and the girls or partner head out for that special day or evening.
Makeup and organisation
So now you know what space you have on the top of your dressing table and the size of each drawer, now you can plan and organise your makeup and accessories.
To be truly organised you need ample storage and then invest in some trays, drawer dividers, inserts and organisers to store and manage all your beauties.
Here's a quick guide to organising makeup on the top of your dressing table and in the drawers.
Keep your daily makeup on the dressing table top.
Store your everyday things into dressing table drawer.
Invest in some drawer organisers, inserts or dividers.
Put your perfumes next to your mirror; leather catchall trays are a touch of class.
Add personal items like photos and pictures to your table or the edge of the mirror.
Leave skincare products and jewellry on dressing table surface.
Leave and charge your phone on the table top.
Use one drawer or one side of the drawer for eyeliners, lip liners, and lipstick.
Use a test tube holder to manage and store all your lipstick.
Store your hairdryer and straighteners on the other side or in the second drawer.
Cleaning a dressing table
Your dressing table is going to be an everyday table so you will clean it most every day.
You will leave residue of foundation, powder, shimmer and tissue or blotting paper with lipstick marks so cleaning and maintenance is a vital buying feature.
All of the dressing tables we've featured have a smooth or glass surface that can be easily wiped with a soft cloth (or baby wipe) and cleaned.
The tables we've researched have no high edges where excess makeup could get caught and left leaving a table looking dirty.
Self Assembly or not?
In this day and age most furniture requires some form of assembly at home.
Most of the retailers explain the type of assembly required on their product pages and companies such as Ikea, Next and Made provide assembly instructions you can download.
Surprisingly it's the top of the range retailers such as LexDeco and Chaplins that don't explicitly outline whether or not their vanity tables are assembled or not.
Most retailers have live chat or contact support where they will respond to your enquiries.
I've reached out to Ikea, Habitat and Next with product questions and most are responsive in 24 to 28 hours.
Summary
We hope this dressing table guide was useful.
There are so many table designs we aimed to include a representative selection of well known brands, types, sizes, style and budget levels.
We packed over 120 hours into researching ladies opinion online and in person.
So we recommend you take your time to research your room space wether it be a dressing room or bathroom making sure you place a bathroom mirror with lights at the centre of your thoughts.
Image credits go to Ikea, Next, Made.com, Dunhelm, Chaplins, John Lewis, LuxDeco and Juliettes Interiors and expatmakeupaddict.com.